What we can do for you
Whether it's subtle or striking, soft or sculpted, our Aveda qualified stylists can create almost any look, colour or effect that you might be keen to try.
Using Aveda's naturally derived organic products and the latest techniques, we can cut, colour, style or treat your hair so that you leave us with it looking and feeling in great condition.
In addition to traditional cutting and colouring, our stylists can restyle, correct colour or apply a new effect such as balayage. If you would like a free wedding hair consultation or are going to a ball, prom or other special event and have a particular look in mind, please pop in to talk to us about what you would like.
We're always happy to chat through your options with you, and can even book 'trial runs' if you would like.
Getting the best from your visit to Vanilla White.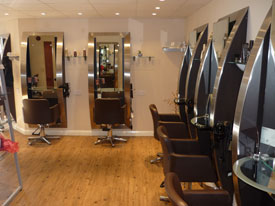 If you have not had a technical service from us before, please remember that we cannot proceed without an allergy test, which has to be done at least 48 hours ahead of your appointment.
We offer additional optional treatments for both women and men and they range in price from £5 to £15. Our Pramasana scalp care treatment is a popular intense scalp treatment, while Invati is great for thinning hair.
Please also don't forget the free three hour parking facility in the Churchill Court car park.
If you would like to buy a gift for family or friends, Vanilla White gift vouchers are available from £5 upwards and can be redeemed towards any of our services and Aveda hair and styling products.
The Vanilla White Team
Lucy
Lucy has over 23 years experience in hair dressing and a wealth of experience in various positions. She completed her initial training in Crown's Hair Group. Since then, she has worked abroad in Sydney, Australia before returning to the UK to work for Toni & Guy, in London and Worthing. Ten years ago, Lucy took a leap and helped set up Vanilla White.
Lucy has trained directly with Aveda in London in various aspects of hair styling.
Sara
Sara is our in-house colour specialist. After college and completing NVQ level 1 & 2, She started her career on a Toni & Guy training scheme where she went on to do her L'Oreal Colour Specialist Degree. Sara was then Technical Director for 10 years, before going on maternity leave. A year later in 2008, Sara joined us at Vanilla White part-time at Director level. To add to her wealth of experience and qualification range, Sara is highly trained in Aveda products and has an extensive knowledge of their colouring systems.
Kaleigh
Kaleigh has been with Vanilla White for 7 years and is one of our Senior Stylists, trained in NVQ levels 1, 2 & 3. Before joining us, she had completed 2 years of Toni & Guy training, a 6-week barbering course and since joining, has been on Aveda's Hair Colour Systems, Solutions, Editorial, Productivity, Deep Texture Smoother and Product Knowledge training. Kaleigh was also successful in the Toni & Guy Assistant Blow Dry and Aveda Hair Up Competitions. She has qualifications in Hot Bonded and Taped Hair Extensions, which might be a service that Vanilla White will be offering in the future. Kaleigh is also one of our 'hair up' specialists.
Ellis
Ellis started with us 9 years ago as a Junior. She works in the salon part-time around her family and has recently gained 'Senior Stylist' status—we are very proud!
Not only does she have her NVQ Levels 1 & 2 in hairdressing, she has also been on numerous courses at The Aveda Academy in London and has gained additional certificates in Cutting Techniques and Colour Systems and Solutions.
Farah
Farah is a well-established NVQ Level 1 & 2 Creative Stylist and has been with us for nearly 7 years. At the Aveda Academy in London, Farah has completed Product Knowledge, Men's Cut & Style and Colour Systems and Solutions training courses. Farah is part of our in-salon training team and is currently helping our apprentices with their training.
Dawn
Dawn initially joined us for work experience whilst she was completing her training at Northbrook College in Worthing. She has been with us now for over a year and works part-time so that she can get the work-life balance with her children. Dawn has VRQ Levels 2 & 3 in hairdressing and is looking forward to attending The Aveda Academy in London, where she will have the opportunity to up skill and gain further qualifications and certificates.
Shannon and Ella
Not forgetting our two apprentices who are near to completing their second year of training at Chichester College. These ladies are an asset to our salon.
Sophie
Sophie has worked in the hair and beauty industry for 9 years. After giving birth to her son, George, she returned to Vanilla White to help on reception and to aid the smooth running of the salon.
Karen
Karen has recently joined our team to help run our reception during the week. She has been working in a customer service industry for many years and will be a valuable addition to Vanilla White.